RoboFlex® FF
The RoboFlex FF (Flex Feeder) is an
intelligent bulk flex feeder

system

.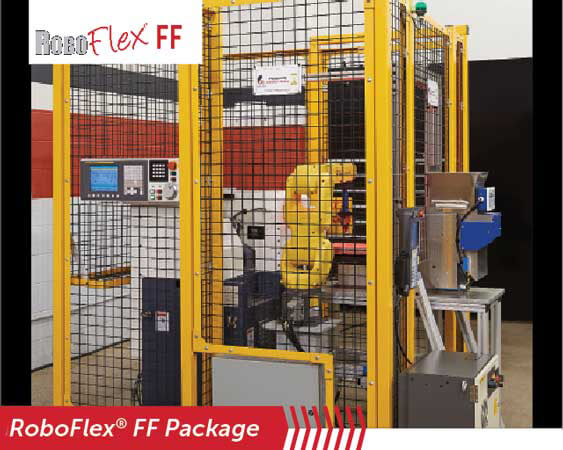 RoboFlex FF Flyer:

 Productivity RoboFlex FF Flyer
RoboFlex FF Videos:

RoboFlex Flex Feeder with FANUC robot, tending lathe
The RoboFlex FF framework holds the intelligent bulk flex feeder and a vision-based robot-guidance system. A pre-feed hopper dispenses a thin layer of parts onto the backlit pick-up area. Selectable feed cycles are commanded to advance, separate and/or flip parts for robot presentation. This minimizes the amount of floor space used. The cell layout is flexible to allow access to your machine tool for operator set-up and process maintenance.
The RoboFlex FF is simple to operate. The operator pours un-machined parts into the pre-feed hopper. A flexible process is linked via the vision system to dispense a thin layer of un-machined parts onto a backlit pick surface. Pick surface can feed forward, backward or vibrate in place to separate discrete parts. A bottom strike can be programmed to flip parts that are upside down. Parts will automatically process until the parts run out.
Base Package Popular Options (others by consultation)
FANUC iRVision 2D part locating system
Re-grip/flip station
Part inspection/exit chute
Pneumatic vertical sliding shutter
Fast servo (2) door shutter
High-speed servo door actuator
Upgrade to quick-change tool stem
Extra quick-change dual gripper assembly
Vise mount casting for rotary table (8")
Schunk KSP 160 Plus vise
Key Features
Intelligent bulk flex feeder
Multiple machine layouts possible
Compact footprint
Simplest to operate
For specifications, please contact Productivity's Robotics and Automation department at 763.476.8600.