RoboFlex® DS
The RoboFlex DS (Docking System) is a
palletized cart system.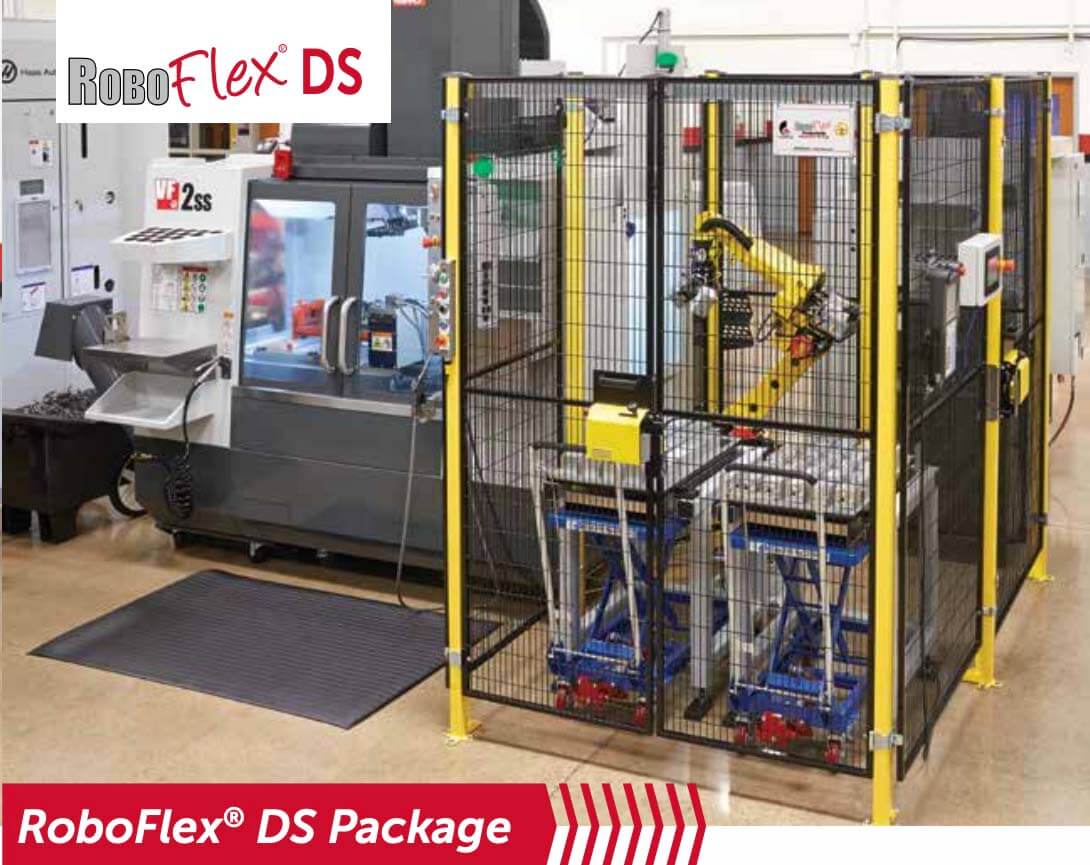 RoboFlex DS Flyer:

 Productivity RoboFlex DS Flyer
RoboFlex DS Video:

 Productivity RoboFlex DS with VF-2SS Side Load

RoboFlex Docking Station with Fanuc robot, tending Haas VF2
The RoboFlex DS is a small-footprint production cell that contains an entire robotic part loading system. It comes with two independent docking frames and hydraulic scissor-lift transport carts; allowing for flexibility in orientation to the robot and machine tool. The two hydraulic scissor-lift transport carts are mounted with 27.375" x 17.5" aluminum part pallets, allowing for rapid material exchange for continuous production.  The welded steel pedestal holds the robot and is mounted to your shop floor.  The Docking Station hardware allows the cell operator to quickly and accurately exchange the work queue.
The RoboFlex DS is simple to operate. The operator places part blanks onto a pallet carried by the transport carts. At the appropriate time, the operator rolls in an empty cart into the receiving dock then uses a foot pedal to lift the pallet with finished parts that needs to be exchanged. A quick swap of the carts and the reverse sequence to lower the next pallet onto the docking framework and you're ready to go. Parts will automatically process until the parts run out.
Base Package Popular Options (others by consultation)
FANUC iRVision 2D part locating system
Re-grip/flip station
Part inspection/exit chute
Pneumatic vertical sliding shutter
Fast servo (2) door shutter
High-speed servo door actuator
Upgrade to quick-change tool stem
Extra quick-change dual gripper assembly
Additional machine integration
Vise mount casting for rotary table (8")
Schunk KSP 160 Plus vise
Key Features
Most compact system
Multi-machine layouts possible
Lathes and mills possible
Entire part queue on a single cart
Additional carts available
Easy, fast changeover
For specifications, please contact Productivity's Robotics and Automation department at 763.476.8600.