RoboFlex® MC
The RoboFlex MC (Material Closet) is a vertical tray feeding system.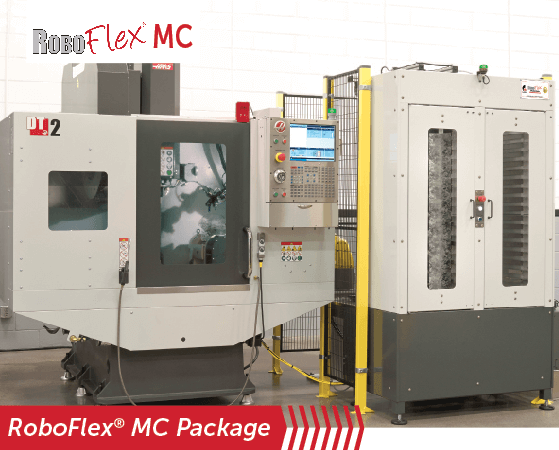 RoboFlex MC Flyer:

 Productivity RoboFlex MC Flyer
RoboFlex MC Videos:

RoboFlex Material Closet with FANUC robot, tending Haas DM1
The RoboFlex MC is a narrow, self-contained cabinet, that contains an entire robotic part loading system. The cabinet and welded steel framework hold the robot, control, and an infeed and outfeed tray handling storage closet. The production cell can exchange multiple part trays automatically for continuous production. The tray handling closet can feed up to 20 trays. Each tray has a dimension of 12" x18". Trays are spaced every 60mm and can handle parts up to 2" tall.  Milled aluminum trays can be used in lieu of the plastic trays that are provided with the production cell, at an additional cost.  The welded steel pedestal holds the robot and is mounted to your shop floor.
The RoboFlex MC is simple to operate. The cell operator places parts onto each tray and slides them into the next available slot until all 20 slots are filled. Infeed trays will be fed downward where the robot will slide them into the working area. Finished part trays will be fed into the outfeed closet where they will be lifted clear of the base until all slots are filled. The vision system is used to guide the robot to un-machined parts, or can be used in special situations to error-proof your process.
Base Package Popular Options (others by consultation)
FANUC iRVision 2D part locating system
Re-grip/flip station
Part inspection/exit chute
Pneumatic vertical sliding shutter
Fast servo (2) door shutter
High-speed servo door actuator
Upgrade to quick-change tool stem
Extra quick-change dual gripper assembly
Additional machine integration
Vise mount casting for rotary table (8")
Schunk KSP 160 Plus vise
Key Features
20 tray system
Multi-machine layouts possible (bigger robot)
Can hold 15 lbs per tray
30 square feet of queue
Small floor footprint
For specifications, please contact Productivity's Robotics and Automation department at 763.476.8600.