Automation & Integration
Watch Our Latest Video to See How Our Robotics & Automation services can assist you with your automation challenges!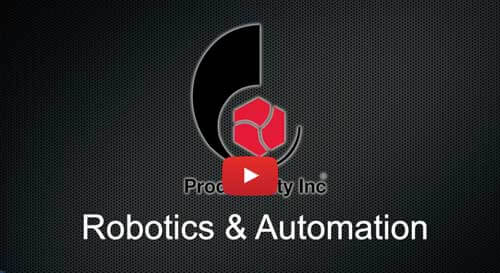 "There are limited production hours available each year – make them count with our automation integration solutions."
Automation is more than just adding a robot. It is analyzing the entire manufacturing process and developing an automation solution that will meet each customer's needs. From load/unload to part picking to assembly and inspection to multi-machine changeovers, we have highly experienced, dedicated robotic automation engineers to help you streamline your manufacturing process.
We specialize in the integration of automation for the general machining industry and precision machining operations using FANUC robots. Productivity is an authorized FANUC robotics automation integrator with a staff of experienced robot automation engineers.  This strong partnership combined with Productivity's vast array of metalworking resources, will help manufacturers reduce costs, improve quality, maximize efficiency and increase their global market position. We provide a complete package that help drive you towards industrial automation. See why FANUC robots and our automation services are A Great Choice for Your Robotics Integration Projects.
When you work with Productivity, you gain a business partner who is ready to provide the support you'll need to grow your company. Our experienced team of engineers is here to help develop the most efficient process possible. Our dedicated Automation and Robotics can help with the integration of robotics into your manufacturing process.  We offer financing options as well as professional training opportunities to make our system a reality for your operation.