CNC Machine Tool Repair Provider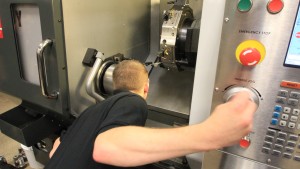 Productivity Inc. is a CNC machine tool repair provider with services for manufacturing facilities and machine shops throughout the Upper Midwest and Rocky Mountain regions. Productivity has locations that serve Minnesota, the Dakotas, Iowa, Nebraska, western Wisconsin, Colorado, Utah, New Mexico, Idaho, Montana and Wyoming.
Our service goal as CNC machine tool repair providers is to maximize your up-time by giving you the fastest response time in the industry.
Productivity dedicates hundreds of hours to CNC machine tool repair each week to ensure your CNC machine tool is up and running, whether be a milling or lathe machine tool, a machining or turning center, fabrication equipment, a micro-milling machine, a laser or grinding machine, or any other manufacturing equipment. Our courteous, knowledgeable and factory-certified machine tool repair technicians have over 555 hours of combined service experience, and provide all of our CNC machine tool repair services using parts that are locally stocked and readily available.
You can expect your machine will be treated with TLC. All of our service engineers adhere to high quality standards, follow a checklist specific to your machine, and follow the highest safety standards and procedures. You can count on them to:
Communicate with customers to diagnose problems with CNC Mills and Lathes including: electro mechanical, operational, electrical/electronic and overall equipment problems.
Investigate equipment failures and malfunctions. Communicate with engineering, production team members, or technical experts to resolve intermittent malfunction or failure of equipment or systems.
Diagnose and repair problems. Identify and replace parts as necessary. Test and make adjustments.
Provide comprehensive repair service to keep equipment running at peak performance.
Inspect components and subassemblies. Perform component failure analysis as required and conduct in-process testing as needed.
Comply with safety regulations and maintain a clean, orderly work area.
Perform repairs as required by testing and troubleshooting CNC controls.

See why Productivity's CNC machine tool service provider program is second to none
Inside Technical Support Specialists are all skilled and experienced in the field — 80% of problems are resolved over the phone!
100% of calls are connected directly to an Inside Technical Support Specialist.
Fully stocked service vans mean better than 90% "First Call Completion."
A huge CNC Machine Parts department that stocks machine tools and CNC machinery parts locally so they're readily available.
Telephone support for troubleshooting is provided throughout the day beginning at 7 a.m. CST. Service calls are scheduled, and typically resolved within 24 hours. That's our commitment to our valued customers.
Contact us today and discover how we take maintenance, machine tool parts and customer service to the next level!
MN, ND, SD, WI: 763.476.4191 / service@productivity.com
IA: 319.734.3403 / serviceia@productivity.com
NE: 402.330.2323 /servicene@productivity.com
CO, NM, East WY: 303.571.4934 / servicedenver@productivity.com
UT, ID, MT, West WY: 801.886.2221 / serviceslc@productivity.com
Need parts, go to machine tool parts ordering page or contact us by completing the form below.