Makino. Not Your Average Machine Tool.
Helping Machining Customers Make What Matters.

Productivity has been a partner with Makino since 1983. Established in 1937, Makino machine tools is a world leader in advanced CNC horizontal and vertical machining centers. Makino is committed to providing high-performance, leading-edge machining technologies and innovative engineered process solutions that enable machine shop manufacturers to focus on improving their product quality, eliminating waste, improving cycle times, reducing production times and costs, and increasing profitability. They develop and manufacture the world's most accurate and highest quality metalworking machine tools and EDM machinery. Their full line offers a wide range of high-precision metal-cutting and wire EDM machinery, including HMCs, VMCs, 5-axis milling machine tools, micro-machining machines, graphite machining centers, grinding equipment and wire and Ram EDMs.
Makino Machine Tools: An Innovative Approach to Manufacturing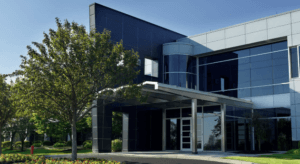 Makino has established a reputation as an industry leader in machine tool design, so we're proud to provide our customers with this company's performance-driven products. No matter your application, you can achieve exceptional machining precision and higher quality parts with Makino's wide selection of dependable manufacturing machinery.
What makes Makino machine tools so trusted in manufacturing? It's a combination of speed, accuracy, reliability and performance. Makino understands the real-world challenges that manufacturers of all sizes face and that time is money. Industrial manufacturers need to make more with less, and need to meet or exceed production timelines.
Makino's innovation and relentless search for best technologies, makes them the only manufacturer of a horizontal wire EDM. In fact, their search for creating CNC machinery to meet customers' ever-changing manufacturing needs, has lead them to many firsts. They were the first to introduce a high-speed spindle for milling, the first to offer a servo-control software tailored to high-speed machining, and the first to develop a drop-tank wire EDM. They were also pioneers in EDMing with the High Energy Applied Technology (HEAT) for wire EDMs to increase speed in wire EDMing. They introduced the micro EDM Ram machine, and technologies including the SurfaceWIZARD and ADVANTiGE, for the machining of titanium.  And even more recently, they designed the first voice-activated assistant for machinists, called ATHENA.
A Wide Selection of CNC Machines
Every machining company has its own production challenges and opportunities, so Makino makes it easy to find CNC equipment for your unique needs. Whether you are part of a large manufacturing facility or you run a small job shop, there is a Makino machine to help you maximize efficiency.
From Makino horizontal machining centers that deliver low cost-per-part production, to Makino vertical machining centers  that produce a higher quality of surface finish, the company  designs its equipment with functionality and precision in mind. Explore our selection of machines below: 
Horizontal Machining Centers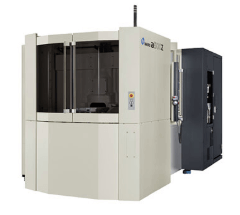 Makino offers 4- and 5-Axis HMCs that are manufactured to be accurate and rigid throughout the full range of the Y-axis travel. Expect high-speed, high-performance spindles on the 4-axis for high, repeatable metal removal rates or reduced cycle times on a 5-axis HMC. From high-volume small-parts production, to high performance machining to large parts with large features to unattended operation of heavy die/molds to large plastic injection molds, Makino has an HMC to fit your unique application.
Vertical Machining Centers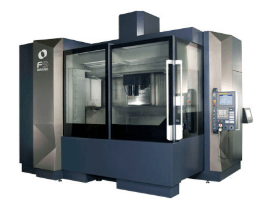 Whether you are machining large parts, die and mold components, multi-sided parts, or have a tight-tolerance hard milling application, Makino VMCs have what you need to get the job done. You can expect chatter-free cutting, more accuracy for complex 3D parts and easy setup on a Makino 3-axis VMC. Makino's 5-axis VMC's rotary axes' speed enable reduced cycle time and a higher quality surface finish.
EDM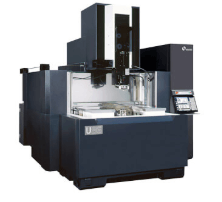 Makino EDMs (Electrical discharge machining) are designed for supreme reliability and industry leading precision, and produce finer surface finishes while significantly lowering maintenance and consumables costs. Makino has three types of EDMs including Wire, Sinker and Hole-Drilling EDM. For more information on bringing EDM in-house, check out our When is it Time to Bring Electrical Discharge Machining (EDM) In-House blog.
Software That Powers Productivity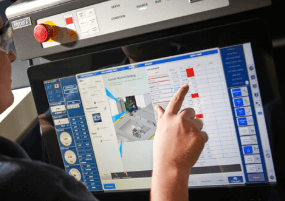 While it's the machines that get all the attention, Makino's software is an important factor that gives your team more control over your CNC operations. With dedicated in-house software designers working closely with the company's engineers, Makino is able to build CNC equipment with optimized control mechanisms from the very beginning. With high precision cutting programs and easy configurations, Makino software creates a more seamless connection between the CNC operator and the machine itself.
Find the Makino For Your Needs
Operators know that running a Makino gives peace of mind. Ease of use, precision and dependability mean less machine inaccuracies and less scrap, better profitability.  Learn more about Makino's full line of machine tools and how we can provide you with the products your business needs!