Citizen Cincom: A Worldwide Leader in CNC Swiss-Type Automatic Lathes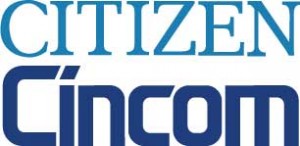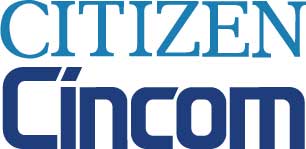 Since 1961, Marubeni Citizen-Cincom (MCC) has been recognized as the worldwide market share holder in the area of CNC fixed & sliding headstock Swiss automatic lathes and turning centers, with an established reputation for ease-of-use, fast setup, precision, rigidity, and efficiency. Since its inception, Citizen has successfully made Citizen Cincom swiss screw lathe machines the most widely accepted CNC fixed & sliding headstock Swiss automatic lathes and turning centers in North America. Their line consists of CNC sliding headstock Swiss type CNC automatic lathes, fixed headstock Swiss type CNC automatic lathes, bar loading, welding, laser systems, automatic lathes, thread whirling, and multi-station machining cells.  CNC fixed & sliding headstock Swiss automatic lathes  and turning centers are highly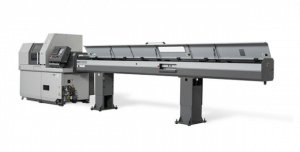 prized in the manufacturing of parts for a variety of applications and industries including medical instruments and devices, dental implants, aerospace and aviation components, electronics, fiber optics, automotive parts, business machines, defense, firearms, tools, valves, fasteners, and much more
In 2010, the line of MIYANO high-precision, fixed-head automatic lathes, was added to the Citizen family. This amalgamation of the two product lines has enhanced MCC's capability to offer customers better manufacturing solutions for 2 mm to 64 mm bar applications.
One of the elements that sets Citizen apart, is its commitment to providing after-sale support through strong partnerships with local distributors. With easily accessible technical support and service, access to OEM replacement parts, training and applications support, Citizen and Productivity are able to reduce the true cost of ownership of a CNC fixed & sliding headstock Swiss automatic lathes/turning center and provide the best return on your investment.
As distributors of the MMC family of swiss-style lathes since 1990, Productivity Inc provides expert sales applications matching with the best local support by effectively serving the increasingly sophisticated requirements of the small parts manufacturing industry. In addition to sales, service and applications, Productivity offers free classes for all purchases to get you up and running fast on your new CNC fixed & sliding headstock Swiss automatic lathes  and turning centers.
About Swiss Screw Machine Technology
Unlike conventional lathes, Swiss-type machine tools use a sliding or fixed headstock to move bar stock through a guide bushing allowing the part to move in the Z-axis. This results in exposing only the portion being machined while the tool is stationary. This method minimizes part deflection and enables tight tolerances. Swiss machining is known for machining long workpieces and small diameters, and short-run, high-precision jobs, therefore making it a flexible option for jobs that would otherwise require a number of different secondary operations.
Equipped with up to 13 axes, Swiss-type machines can add significant value by reducing throughput times and labor as operators don't need to transfer the work in progress to another machine for completion, thus enabling the complete machining of a part in a single cycle. No technology beats Swiss machining when it comes to churning out many small parts.
Programming Complex Parts Made Simple: WINCNC is a Win Win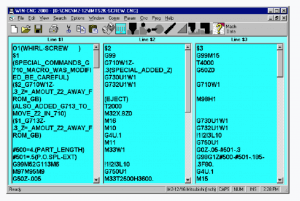 To help get the most of part machining, all Citizen swiss-style machines are equipped with WINCNC, Citizen's CNC programming system. This software connects seamlessly to a PC and is designed to allow operators to easily and quickly create, edit, and run CNC programs. It comes with many built-in tools to help you work with different CNC code sections. It is also configurable to send and receive data from other compatible machines in your shop.
CNC Lathe Cycle Time Estimating Software for Windows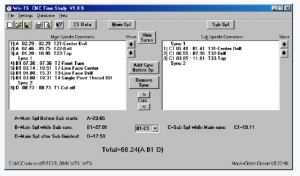 Whether you need a time study to improve efficiencies, or identify inefficiencies, or to help you establish KPIs for a manufacturing process, or inventory planning, or achieve manufacturing goals, Citizen's Window Time Estimating (WinTS) software was developed to enable machinists to create accurate time studies for a given part.
Where Precision Meets Innovation
Citizen machinery continues to grow and improve their product line to service the manufacturing sector. New technologies and accessories such as LFV cutting for chip control, laser systems, bar loaders and custom automation, enhance the ability to make precision parts quickly and efficiently.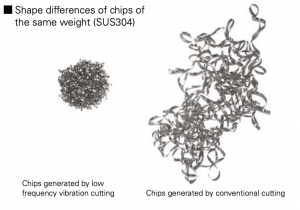 Low Frequency Vibration (LFV), also known as LFV cutting, is a cutting method from Citizen using lasers, designed to avoid the problem of spiraling chips, entanglement of chips (bird nesting) and built-up edges. This technology is available on Citizen VC03, A20, D25,  L12, L20, L32, MC20, M32 and Miyano machines. By have a laser "under the hood", certain machine steps can be eliminated and less machines may be required. In medical manufacturing, this is a bonus since it is one less machine to validate. Having an LFV machine tool in your toolbox means extended tool life, smaller chips, minimal burring, excellent deep hole drilling and near endless geometric shape possibilities, to name a few.
The Laser System L2000 (see video) is a hybrid machine, combining conventional machining and laser cutting on a single machine platform. Such fiberoptic laser combos offer high-precision, high-speed laser cutting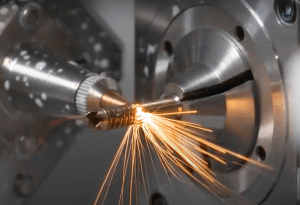 with reduced part handling and improved part accuracies. This system is also suited for prototyping because machinists can create tubing from solid stock. The L2000 is modular in design, and can be applied to most Cincom machine models including A20, L12, L20, L32 and Miyano BNA-42GTY. Furthermore, this fiber optic laser system can also be retrofitted to older Cincom models.
This unique, compactly designed L20XII ATC Automatic Tool Changer tooling with B-axis can be mounted on the gang tool post to enable use of a total of 13 front machining B-axis tools – 12 ATC tools and one tool built into the tooling (L20XII dedicated option). Using the ATC tooling in conjunction with existing turning tools and cross machining rotary tools combines the machining speed of a Swiss-type automatic lathe thanks to the gang tool post.
The ATC provides an environment where the tool setting for machining several types of workpieces can be completed in a single setup. Capable of machining complex parts such as medical parts including implants.
Citizen has engineered a Tandem Live Tools Options that uses one live tool station to drive two tools. Due to the small mechanism of the piece, the additional live tool does not take up additional space but doubles the output. More tooling means better production rates.
MCC Automation Systems or automated material handling systems, designed for Citizen and Miyano machines for manufacturing processes include vacuum ejection, wire ejection, and load/unload with palletizing for medical bone screw manufacturing.
See How Highly Versatile Swiss-Type Turning Centers by Citizen Can Work For You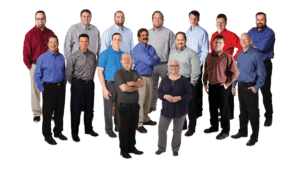 Productivity has sales and applications engineers who are expertly versed in swiss-type machining and Citizen equipment, and have a ton of successfully implemented applications under their belt. Whether you have small parts production issues or are trying to reduce number of secondary machining processes, swiss turning may be just the trick. Contact us to discuss your application or to set up a demo.