RoboJob Robotic Automation Tending Systems
RoboJob-USA is a leading provider of robotic automation tending systems for the manufacturing industry boasting a "we use the technology that we sell" motto. The company was established in 2007 in Belgium, and in 2018 it opened its first office in the United States. RoboJob-USA's mission is to help manufacturers improve their production processes through the use of advanced automation tending system technology.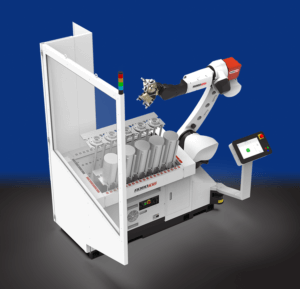 RoboJob-USA's automation tending systems are designed to help manufacturers improve efficiency, reduce costs, and increase productivity. These tending systems are easy to integrate with existing production lines and a wide range of machine tool brands.
Check out their line of automation tending systems including their Pallet-Load Series for the CNC lathe or milling machine automation, their Mill-Assist Series for the automation of your milling machine, and their Turn-Assist Series off for the automation of your lathe. And, when you buy RoboJob-USA's automation tending systems, you can expect  flexibility, ease of use, and a quick ROI.
RoboJob-USA's strong commitment to innovation and customer satisfaction, along with training, technical support, and maintenance, makes them a great fit to Productivity's product line. You can count on RoboJob-USA as trusted partner for your automated manufacturing needs.
Look to RoboJob-USA to automate your production processes.

RoboJob Robotic Automation Tending Systems

RoboJob Automated Tending System Videos

RoboJob Robotic Automation Tending Systems Website