TEAM Foundation Receives $75,000 from Productivity and Gene Haas Foundation
Congratulations to TEAM Foundation in Bagley, Minnesota for being awarded a BIG check for $75,000 from the Gene Haas Foundation!  
Matt Mangulis, Sales Engineer from Productivity Inc/Haas Factory Outlet presented the check to (pictured below left to right) TEAM Foundation Board Member, Janelle Crabtree, Matt Mangulis and Jim Russ, TEAM Foundation Board Member/Director of Corporate Development for TEAM Industries.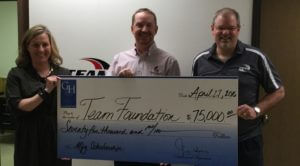 The TEAM Foundation/Consortium was established to help accomplish mutually rewarding successes in the region with joint focus upon:
Investing in our local kids and students to give opportunity to stay home and earn a good living in our local communities by paving the way for good paying jobs
Building machine trades programs
Building curriculum that fosters development of technical skills
Reach down to the middle school & high school programs and give exposure to technical skill development that compliments TEAM needs
Create pathways and steps to engage young learners in technical education
Create formal apprenticeship programs
Create scholarship programs to sustain technical education in our backyards
Sustain the partnerships by formalizing participation in the consortium
Jim Russ, TEAM Foundation Board Member shares, "Your scholarship investment in us as a Region in rural Northwestern Minnesota, allows for us to "keep young talent in our own backyards," as they "learn by doing" as we try to overcome the difficult skills gap and employment issues related to the Machining Industry. Our young students receive scholarship aid to attend one of only a few of the Technical College programs left in rural Northwest Minnesota.
 Indeed, we believe that Gene's Mission and outreach to overcome skills gaps, to provide the "hands on opportunities" to learn and apply CNC skills, and to strengthen The Technical Education and Curriculum components necessary to build and sustain Machining jobs in our rural communities, is a wonderful partnership."
The scholarships will be known as the Gene Haas Scholarships, named after the Gene Haas Foundation who has been offering scholarships to high schools, community colleges and special educational programs that help build skills within the machining industry.
The Gene Haas Foundation awards grants to High Schools and Post-Secondary Schools to assist with their programs, including scholarships for students pursuing Manufacturing Careers.  Schools can find out more about potential opportunities and apply for Scholarship Grants at www.ghaasfoundation.org.