Productivity's 21st Oktoberfest Tool Show – A Breath of Fresh "Tradeshow" Air
Plymouth, MN. October 2021 — Productivity's 21st biennial Oktoberfest Tool Show, held September 21-23, gave manufacturing shop owners, CEOs, engineers, machinists and employees in the Midwest area a first-hand look at the finest in CNC machinery, tooling and accessories, and related technologies and services.
Productivity's biennial Oktoberfest Tool show

is considered the largest distributor operated trade show event in the Midwest, if not the U.S. At this year's Oktoberfest Tool Show, there were a large variety of quality brand CNC machines on display showing off their milling, turning, multi-axis and fabricating abilities through demos.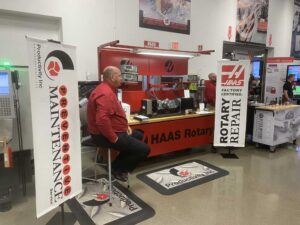 To help run these machines, there were also over 85 quality tooling & accessories suppliers, our tooling online ordering division, Machinesused.com division and preventive maintenance and service departments, PQI measurement solutions products, contract dimensional inspection services and ACT software solutions, as well as robots, and integrated robotic systems. Our knowledgeable sales, service and application experts were on hand to answer questions and explain the newest technology machines.
Greg Buck, President, commented that "For the approximately 2,700 visitors at the show, it was a welcome change to the locked-down show environment they've all experienced the past year and a half – the Oktoberfest visitors who came were upbeat and interested in seeing new equipment." He added that "there were many individual customer and supplier expressions of appreciation for what was being shown, the efficient logistics, good food and drink, and all the little but thoughtful ways that we showed our vendors & customers that we cared.
And every time…I would hear comments about how wonderful the people here are." He added appreciatively and with pride, "So very very true!! It's the people who make the difference – and that was clearly evident to all who came." Productivity's next Oktoberfest Tool Show will be in 2023 and should include its student day.
Since 1968 Productivity Inc., based in Plymouth, Minnesota, has been distributing a broad range of CNC machine tools, tooling and accessories and related metalworking products. Productivity Inc. can assist in the research, evaluation and planning of your machine tool purchase. As a single source machine tool supplier, Productivity Inc. offers Machine Tools, Tooling and Accessories, Machine Service, Preventive Maintenance, Rotary and Live Tool Repair, Turnkey Systems, Robotics and Automation. Our MachinesUsed.com division will sell your surplus equipment via its online auctions. Productivity Inc. provides metalworking products and services in Minnesota, North Dakota, South Dakota, Iowa, Nebraska and Western Wisconsin with facilities in Cedar Rapids and Omaha. Productivity also has facilities in the Rocky Mountain Region based out of the Denver area and Salt Lake City covering Utah, Colorado, Idaho, Montana, New Mexico, and Wyoming.