Oktoberfest Tool Show Focuses on Newest Technologies in Manufacturing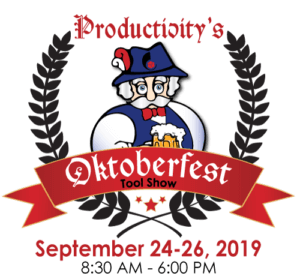 Plymouth, MN. September 2019 — Productivity's 20th Oktoberfest Tool Show is slated for September 24-26, 2019. Every Oktoberfest Tool Show is a demonstration of the many manufacturing technologies available, and this year is no exception. At this show, you can also expect to see several new product releases, robotic cells in action, tool vending systems, measurement and programming software solutions, dimensional inspection products, used machine live auction, as well as some of our new and current additive manufacturing partners which have expanded the materials, options for prototyping, and capabilities of 3D printing in manufacturing.
Productivity's biennial Oktoberfest Tool show is considered the largest distributor operated trade show event in the Midwest, if not the U.S. Over 40 CNC machine tools including Haas, Makino, Matsuura, Marubeni Citizen, Okamoto, BTM, Extrude Hone, Hasagawa, Hwacheon, Foba, iFP, Mighty Viper, Muratec, Omax, Scotchman, Statasys, Desktop Metal, NanoDimension, AddUp, Anca, Belmont and Tsune will be on display and running demonstrations. In addition, the show will feature over 80 quality tooling & accessories suppliers, our Machinesused.com division, measurement solutions products, contract dimensional inspection services and software solutions, as well as robots, and integrated robotic systems.
There will also be a Student Day on Monday, September 23. We are expecting over 1000 students from high schools and technical colleges touring the show to witness metalworking at its best, and discover the many career opportunities available in manufacturing. Productivity Inc. leads the way, not only by providing innovative solutions for manufacturing, but also by looking into the future of the machine tool industry — introducing tomorrow's manufacturing professionals, to new technologies in the machining and tooling industries, is an important step in that journey.
Since 1968 Productivity Inc., based in Plymouth, Minnesota, has been distributing a broad range of CNC machine tools, tooling and accessories and related metalworking products. Productivity Inc. can assist in the research, evaluation and planning of your machine tool purchase. As a single source machine tool supplier, Productivity Inc. offers Machine Tools, Tooling and Accessories, Machine Service, Preventive Maintenance, Rotary and Live Tool Repair, Turnkey Systems, Robotics and Automation. Our MachinesUsed.com division will sell your surplus equipment via its online auctions. Productivity Inc. provides metalworking products and services in Minnesota, North Dakota, South Dakota, Iowa, Nebraska and Western Wisconsin. Productivity also has offices in the Rocky Mountain Region, including Colorado, Idaho, Montana, New Mexico, Utah and Wyoming.