Productivity Inc 20th Oktoberfest Tool Show Has Record Attendance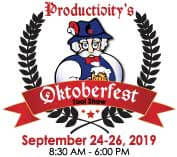 Productivity's 20th biennial Oktoberfest Tool Show, held September 24-26, gave metalworking shop owners, CEOs, engineers, machinists and employees in the Midwest area a first-hand look at the finest in CNC machinery, tooling and accessories, and related technologies and services.
Productivity's machine tool show is regarded as the largest distributor-operated trade show event in the Midwest, if not the U.S. As one machine vendor who travels the country doing these types of shows put it, "What a great show this is, one of the best I have ever seen by far!" he stated emphatically. He added that "It is a place where people can get real problem solving and explanations of what we are selling." With over 40 CNC machines on display and running demos, you could feel the energy and excitement in the building, and with the buzz of over 3,300 attendees passing through over this three-day event, it was quite the exhibition. In addition, the show featured over 80 quality tooling & accessories suppliers, our Machinesused.com division, measurement solutions products, contract dimensional inspection services and software solutions, as well as robots, and integrated robotic systems. There were plenty of experts on hand to answer questions and talk the latest in metalworking technologies.
With new technologies being a focus, the show had an extensive showing of 3D printing and additive manufacturing machines. Productivity is proud to have a dedicated lab for its four lines of 3D printing and additive manufacturing machines, ranging from metal 3D printing, to innovative circuit design, to rapid prototyping. The AddUp, Desktop Metal, Nano Dimension and Stratasys lines demonstrated how they can image, design, replicate on the fly and enable them to go from prototype to production quickly, as well mass manufacturing. 
In addition, Productivity had several of their RoboFlex® lines of pre-engineered systems on display. One of the cells, the RoboFlex® Docking System, demonstrated to visitors the unattended, automation of a three-part process using a FANUC robot in the manufacturing, inspecting, and laser marking of a 303 SS shot glass. 
Productivity offered four informative seminars daily featuring industry experts. Standing room only in many of the seminars was a testament to their value.

After a long day at the show, attendees were greeted in the food tent with pig wings, brats, beer and polka music. Greg Buck, President said that "We try to make this show worthwhile for everyone who comes so they see something that can significantly help their businesses, while enjoying some social time as well. Maybe even taste a fine German bier."
On the Monday prior to the show, Productivity also sponsored a day just for students – to come in and see metalworking at its best. We had over 1000 students and teachers attend from 32 technical and community colleges and high schools in the area. They were able to see first-hand how manufacturing impacts our daily lives through live machine demonstrations. They were able to see the many opportunities for great jobs in the manufacturing sector, learn a bit about some of the processes, meet with our experts and enjoy some lunch. CCX Media covered the student day event. See video.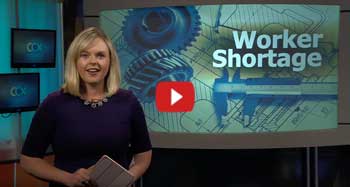 Productivity Inc. leads the way, not only by providing innovative solutions for manufacturing, but also by looking into the future of the machine tool industry – introducing tomorrow's manufacturing professionals, to new technologies in the machining and tooling industries, is an important step in that journey. In addition, there were over a dozen manufacturing sector employers there to show graduating students the opportunities in this sector.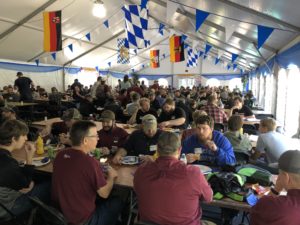 Productivity is a strong advocate for the manufacturing sector, and Oktoberfest is always a great venue to witness the strength of manufacturing in our great state and area. Since 1968 Productivity Inc, based in Plymouth, Minnesota, has been distributing a broad range of CNC machine tools, tooling and accessories and related metalworking products. Productivity can assist in the research, evaluation and planning of your machine tool purchase. As a single source machine tool supplier, Productivity Inc offers Machine Tools, Tooling and Accessories, Machine Service, Preventive Maintenance, Turnkey Systems, Robotics and Automation. Our MachinesUsed.com division will sell your surplus equipment via its online auctions. Productivity Inc provides metalworking products and services in Minnesota, North Dakota, South Dakota, Iowa, Nebraska and Western Wisconsin. Productivity also has offices in the Rocky Mountain Region, including Colorado, Idaho, Montana, New Mexico, Utah and Wyoming. For more information on Productivity Inc, please go to www.productivity.com or call 1.800.328.3272.