Always a Smooth Finish with Okamoto Grinding Machines

Established in 1926, the Okamoto Corporation has made a name as a market leader in the production of surface automatic and CNC grinding machines. Known in the industry as a Total Abrasive Process Machine manufacturer, Okamoto provides the most advanced grinding technology in the industry with uncompromising dedication to quality and repeatability. Their diverse line-up of highly reliable and accurate NC and CNC  grinding machines also known as grinders, range from precise toolroom applications to the most demanding high-production runs. Okamoto offers a variety of capabilities in internal, cylindrical, surface, rotary, and gear grinding along with other specialty grinding machines. Compared to their competitors, Okamoto offers the highest-quality NC and CNC grinding machines for more abrasive finishing applications.
In the metal processing industry, grinding is one of the most critical steps in the entire finishing process as it creates high-quality smooth metal workpieces for camshafts, ball bearing, transmission shafts, and other parts that require precision and perfect finishes. The grinding abrasive finishing process plays an important role in the manufacture of parts for the digital consumer electronics, automotive, aerospace and semiconductor industries.
Okamoto Line Up of Grinding Machines Deliver Highly Accurate Finished Products
Manual Grinders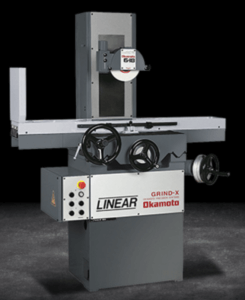 Okamoto's Linear B Series manual feed surface grinders are rigid in construction and boast a smooth table movement and ergonomically designed hand wheels for operator comfort and control. Manual grinding machines are low maintenance and easy to use and excel in the area of small work or smaller capacity jobs, final part sizing and squaring, surface finishing and tool sharpening.
Surface Grinding Machines
Used to produce flat, contoured, angled or irregular surfaces, surface grinding is the most reliable and efficient method, and therefore the most widely used method for obtaining a clean workpiece surface. Okamoto has a wide array of surface grinders to meet all your grinding production requirements including automatic, CNC and single and double column.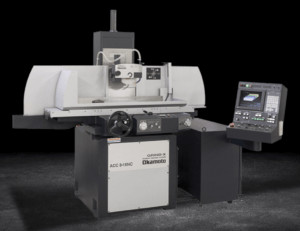 Okamoto's line of saddle type surface grinders, including the ACC-SA, the ACC-DX and the ACC-6-18X are fully automatic. They offer simplicity of control making them operator friendly. Their rigid construction and full width tables eliminate overhang, providing unsurpassed performance and unmatched reliability. For surface grinders with full-function CNC features, Okamoto offers the ACC-8-18NC and the UPZ-8-20Li form grinders. Both include premium features that ensure high-precision performance with unsurpassed grinding flexibility for your most complex parts. For grinding larger components, Okamoto's line of column type surface grinders includes the ACC-DX and the ACC-CA series. They are ruggedly built and feature super-rigid column feed design and construction with table working envelope of 16"x24" to 32"x120", depending on model. In addition, the ACC-DXNC column type grinders include powerful software capabilities for high precision 2-axis simultaneous grinding of large components and high production grinding applications. For even larger grinding capacity, Okamoto's ACC-CHiQ, ACC-CHNC and DCG series of double column surface grinders have a heavy-duty construction with versatile grinding cycle to boost productivity.
Internal Grinding Machines
Okamoto's rigidly constructed internal grinding machines are an excellent choice for finishing straight, tapered and formed holes with accuracy and precision. The IGM-2MB model with MDI control has a linear slide and ball screw table motion that delivers high-speed table movement speeds of up to 800 ipm and stands up to rigorous high-volume production work. The single spindle IGM-15NC III and the twin spindle IGM-15NC III/2 CNC internal grinders have CNC touchscreen control for ease of use. These larger internal grinders have versatile grinding capabilities and rigid work heads with 100 to 850 rpm speeds. Internal diameter grinders make easy work in producing tubes, bearing races, precision pipes, bushings and other rounded parts with ease. For your high-precision large component grinding or difficult-to-grind parts, Okamoto's UGM-5V universal internal grinder has the added capability of angular, internal, cylindrical and shoulder grinding capability in a single set-up. Its compact design saves valuable floor space too.
Cylindrical Grinding Machines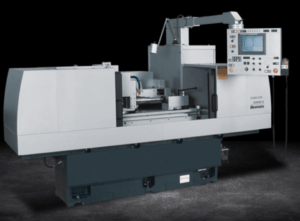 For accurate, rapid rounding and shaping the outside surfaces of a workpiece, Okamoto offers three options of precision cylindrical grinding machines to help streamline your O.D. grinding process. The automatic, economically priced, easy-to-use OGM-20UDX is a must-have all-round O.D. grinding machine. Not only is it ideal for high precision toolroom applications, it is also rugged enough to stand up to tough production runs. It's a true value also coming equipped with a coolant system and dresser. The OGM-III series of cylindrical grinders with FANUC MDI control have a super rigid construction and are easy to use – you can grind up to 10 different diameters in all cycles in any order in a single setup. Auto-dressing with dress and wheel wear compensation come standard. With all the features of the OGM-III, the OGM-NCIII Series cylindrical grinders are CNC operated giving them more powerful advantages. I.D. grinding attachments are available to further expand capabilities on this model.
Rotary Grinders
With a powerful 10hp grinding spindle motor and rigid heavy
Meehanite cast construction, Okamoto rotary grinding machines are ideal for single or multiple part grinding and high production precision work. The rigid structure and high grinding power are ideal for working on heavy and fast stock removal for large castings and plates on a variety of hard or brittle materials. The PRG-DX has an easy-to-use MDI control, while the PRG-DXNC goes further with a 2-Axis simultaneous CNC control for more flexibility. Both have single or multiple workpiece grinding capabilities.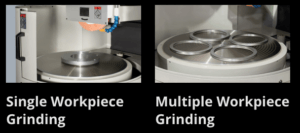 Specialty Grinders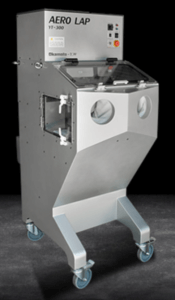 Okamoto's YT-300 Series Aerolap Polisher is easy to use and uses moisture, diamond particles and air pressure to polish even the most irregular shapes to a mirror-sheen finish. This small footprint, low cost running grinder is quiet and produces little to no waste as its abrasive particulate solution can be used over and over. Not only does it lap and polish 10-15 times faster, it improves tool life up to 300%. Aerolap's applications are perfect for cutting tools, forming tools, injection molds, complex shapes, punches, pins and guide rods, manifolds, jewelry and anything smooth for that matter.
Okamoto also offers a line of grinders specifically for the intricate   semi-conductor industry. Okamoto has back grinders, polishers, slicers, and lapping machines designed specifically for materials such as Silicon, GaAs, Sapphire, Quartz, Silicon Nitride, InP, SiC, AlTiC, and many others. They can be used for a wide range of wafer types and processes, such as SOI wafers, bonded wafers, bumped wafers, as well as TSV and MEMS processes, just to name a few. 
For specific information on Okamoto models, click here.
The Okamoto Difference
Whatever your grinding needs, Okamoto has a grinding machine for all your parts finishing applications. Whether you choose manual, automatic with conversational control or full function CNC, Okamoto grinders boast powerful technology for better accuracy and quality. Top that off with options* such as upgraded spindle power, automatic wheel balancing and changing, coolant systems, dressing related options, grinding wheel balancing stands and electro-magnetic or permanent magnetic chucks, to name a few, and you'll bring your parts to a new level.
* Depending on the model
Take the next step in keeping ahead of your competition – ask your Productivity machine tool sales representative for more information on Okamoto grinding machines today!