Cleanliness IS iFP Parts Cleaning and Washing Systems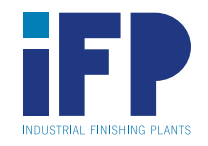 Productivity Inc. offers iFP parts cleaning and washing systems that clean oil- and water-based residue from machined parts.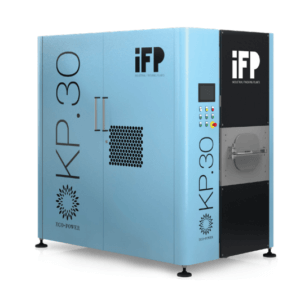 iFP parts cleaning and washing systems continuously recycle the modified alcohol cleaning agent, thus eliminating the need to mix, monitor or dispose of contaminated cleaning solutions. Not only are there dozens of pre-programmed washing cycles, the iFP parts cleaning and washing system can handle batch sizes of up to 1200 Kg, uses a modular basket system and offers multiple cleaning methods. Depending on the application, cleaning methods include programmable spraying, immersion, submerged jets, ultrasonic and vapor cleaning. The iFP parts cleaning and washing system is a robust solution for a wide range of parts cleaning applications, from dental implants to large die-cast products to the most complex of parts with blind holes or cross holes.
From valves and fittings to medical and dental components to automotive sintered parts, iFP's KP range of machines is a robust solution for a wide range of part cleaning requirements. iFP has small single basket cleaning platforms for small precision parts, up to larger systems for the most demanding applications that include modular basket systems and multi-basket carrier frames for washing different geometry parts in the same washing.
Benefits of iFP Part Washers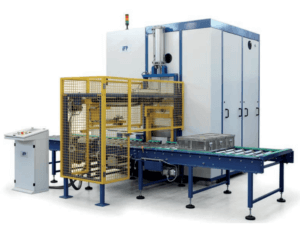 Since iFP iFP parts cleaning and washing systems are airtight and self-contained, they provide an eco-friendly solution and keep workplace air and surfaces safe and clean. They also recapture and recycle the cleaning solutions, resulting in reduced solvent consumption, lower labor involvement, and minimal waste and handling costs. They provide a compact footprint but with the ability to customize with automation, conveyors, bar code readers, and other productive features. If processes can be performed at off-peak hours and/or run overnight, additional labor and electricity savings can be incurred. In addition, with a reduced and often eliminated sorting process due to ability of the iFP to effectively and consistently clean parts, even more man-hours can be saved.  Finally, with programmable features, efficiencies abound for previously washed parts as the system can pull stored wash processes from PC memory. In fact, these stored processes also provide a head start when programming new, but similar parts, with minor adjustments to optimize the process for the new part.
iFP Parts Cleaning and Washing Systems – The Environmentally Safe Option
The ultimate goal of a parts cleaning solution, is to ensure that the end product or part meets certain specifications to assure success of operations and is environmentally friendly. In today's age where reducing the size of a businesses' environmental footprint is king, getting the job done is not enough. Check out our webinar "A Time for Change in Solvents Parts Cleaning Webinar".
With today's environmental concerns, regulations and green footprint, it's more important now than ever to be "Clean and Green."  Pending changes in state and federal law governing the use of hazardous cleaning solvents will require rethinking how a company can effectively meet its parts cleaning requirements. Check out our Environmental Considerations for Green Parts Cleaning Solvents blog article for more details on that front.
Learn just how much impact parts washing can have with your final product. Check out the iFP difference or contact us for a free process evaluation and cleaning analysis on your parts to verify results before you make a commitment.
For a quick view of the iFP equipment, view iFP brochure.