Hwacheon Sirius UM+: A Case Study in Tight Tolerancing & Unattended Operation
When Diamond Tool & Engineering of Bertha, Minnesota was looking for a lathe to add to their facility, they had no idea that they would end up purchasing a Hwacheon Sirius UM+ high-precision,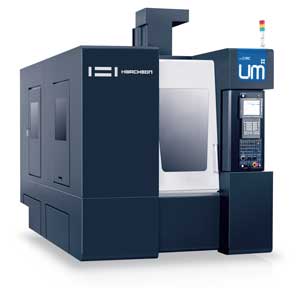 high-speed, three-axis mold making, milling center instead, from Productivity Inc. Andy Walser, Productivity sales rep, in conjunction with the Productivity sales team and applications, evaluated Diamond Tools requirements, researched the best options, and performed test cut demonstrations. That along with Productivity's strong reputation as a single source metalworking distributor offering machines, tooling, service and applications support, made the choice easy. Plus, it didn't hurt that it had 60-position tool changer option that allowed for unattended operation.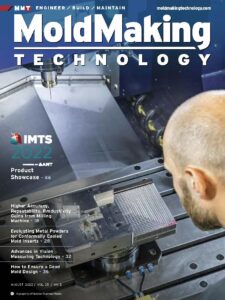 Check out "Heart of the Machine: Investing in Higher Accuracy, Repeatability, Productivity" article highlighted in the August 2022 issue of MoldMaking Technology magazine. 
Case Study Summary
WHO: Diamond Tool & Engineering, Bertha MN 
PROBLEM: Maintain ability to produce highly detailed, tight-tolerance molds ideally running unattended most of the time.
SOLUTION: Invest in a new Hwacheon Sirius UM+ machining center with a 60-position tool changer from Productivity Inc. See video below.
RESULTS: The machines stability, thermal and vibrational control, very high accuracy and low cost of ownership have proven a winning combination
Hwacheon Sirius UM+ High-Precision Cutting Demo
The Productivity and Diamond Tool Team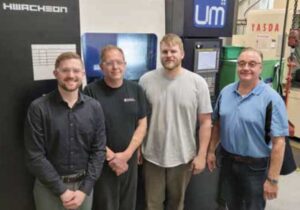 Shown from left to right are Andy Walser, machine tool sales engineer at Productivity Inc., as well as Paul Enberg, machinist/toolmaker, Kory Stave, machinist/toolmaker and Kent Smith, founder/ president of Diamond Tool & Engineering, standing in front of Diamond's Sirius UM+ milling center from Hwacheon Machine Tool Co. Ltd.
If this case study has peaked your interest and you want to learn more about Hwacheon and its lines, please check out our blog, "Hwacheon – Building CNC Milling and Turning Machines One Customer at a Time". Still need more on the Hwacheon Sirius UM series, check details and specifications here.
Reprinted with permission from Gardner Business Media; MoldMaking Technology 2022 (C)