Hwacheon – Building CNC Milling and Turning Machines One Customer at a Time

Hwacheon (pronounced WATCH-ON) is the first Korean company to produce highly stable and long-lasting Hwacheon CNC milling and turning machines. Unlike many machine tool manufacturers, Hwacheon doesn't mass produce their machines. Instead, they custom manufacture their CNC milling and turning machines in-house to fit each customer's requirements, and use only high-quality components from well-known manufacturers.
Hwacheon CNC milling and turning machines include best-in-class horizontal and vertical turning centers for a wide range of applications – from small-part machining to large-size applications. Their line of horizontal and vertical machining centers is capable of the most demanding production jobs. In addition, Hwacheon CNC milling and turning machines boast suberb spindle and chip technology, accurate feed systems and modern machine software.
Productivity's partnership with Hwacheon evolved as a result of Productivity's high standard for CNC machining distributors. Hwacheon has a strong commitment to crafting high-quality components, intelligent design and state-of-the-art technology. As a result, you can count on excellent manufacturing accuracy, process stability, fewer defective parts and longevity when you buy a Hwacheon machine from Productivity. In addition, Productivity can provide direct technical support, on-site services, and quickly obtain spare parts to keep your production line running smoothly.
Check out the possibilities in Hwacheon's part manufacturing capabilities here.
Quality CNC Machining Options for That Competitive Edge
From standard to highly complex jobs or for batch production,  Hwacheon's CNC milling and turning machines in 2- to 5-axis horizontal and vertical styles, help you achieve higher precision, longer lifespan, reduced rework and lower maintenance costs.
Horizontal Machining Centers (HMC): Extreme Performance. High Stability.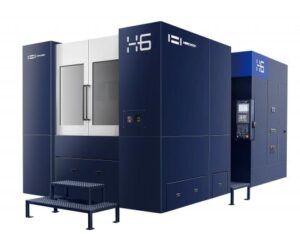 Hwacheon's H6 and H8 models of horizontal CNC milling machines have a 630 mm and 800 mm pallet size respectively, high performance gear spindles and box guideways on all axes. Hwacheon's HMCs' reduced footprint and accurate feed systems make them ideal for factory automation production jobs.
Vertical Machining Centers (VMC): The Die and Mold Production Experts
Hwacheon's vertical machining centers' versatility and flexibility make them especially viable for die and mold, and precision part production. From the highly rigid, heavy duty Sirius line of large-sized VMCs to the more compactly designed D-Series line, to the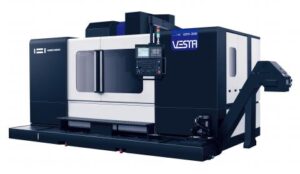 VESTA series with dynamic linear guideways on all axes, to everything in-between, there's no job or material that a Hwacheon can't do.
If you're look for done-in-one machining, Hwacheon's series of full 5-axis machining centers are made to produce even the most complex shapes and designs, and cut through the toughest materials. There are several choices of 5-sided VMCs including the D2-5AX, M-Series and SIRIUS-2500-5AX which also include Hwacheon's proprietary machining software. Not sure if 5-axis machining is right for your shop, check out this article on 5-axis that will change your mind.
 
Horizontal Turning Centers (HTC): Strong. Rigid. Fast.
With a wide variety of turning diameters, Hwacheon's rigid CNC horizontal turning centers can perform a range of machining operations including drilling, boring, shaping and cutting. And, whether processing small- or large-size components or challenging materials, Hwacheon's HTC line is highly rigid and provides extreme precision and flexibility.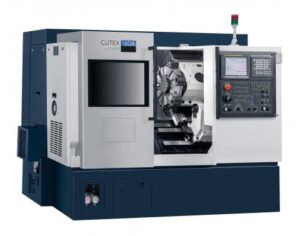 The CUTEX Series is a compact line of rigidly constructed lathes with multi-axis capabilities that allow machining of different parts and shapes faster. Therefore, they are a great solution for all your production needs. And finally, the robust Hi-TECH lathe line offers high precision for the most challenging materials making it a workhorse for all your heavy cutting manufacturing jobs. This lathe line is also flexible enough for one-off part production and second machining of medium to large-size workpieces.
Vertical Turning Centers (VTC): Continuous Use. Large-Size Applications.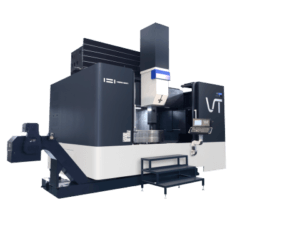 All of Hwacheon VT series of vertical lathe machines boast a one-piece machine-bed design which virtually eliminates thermal wear, absorbs vibration and enhances rigidity. You can count on high surface quality and precision at high speeds on these machines. The VT-450/650 lines are well-suited for mass production of parts like brake discs and drums, hubs and valves, due to its reduced cutting time, rigid high-speed tool turret, high-speed indexing and stable machining. The VT-950/1150 vertical turning machines can handle a variety of complex processes from turning to milling and drilling in one setting. And finally, the VT-2000 ram type vertical lathe with 80″ chuck provides high performance on large-size heavy-duty workpieces commonly used in vessels, wind turbines and many other large industrial parts.
Climb Aboard the Technology Train with Hwacheon
As every Hwacheon CNC milling and turning machine is custom-made to fit each customer's requirements, they are technological marvels in their own right. That means, you can count on a large set of standard features to be included in the base of your machine including user-friendly design, quality NC controls such as FANUC, Siemens or Heidenhain,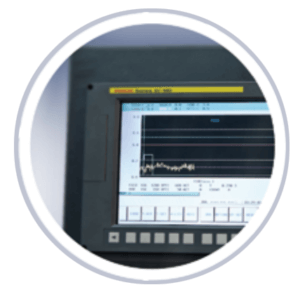 box or linear guideways, driven tools,  coolant systems, door interlocks and more depending on the model. Need to upgrade your performance? Hwacheon offers a range of options (varies by model) including chip conveyors, tool presetters, index tables, sub spindles, parts catchers, and tool magazines to name a few. And with Hwacheon's distinctive and proprietary technological expertise in spindle creation and scraping system, as well as its machine monitoring and calibrating software, you'll get just what you need – nothing less but a whole lot more.
Contact your Productivity machine tool sales representative for more information or to schedule a demo on Hwacheon CNC milling and turning machines today!