Bridgerland Applied Technical College Receives BIG Check from the Gene Haas Foundation
Congratulations to Bridgerland Applied Technical College of Logan, Utah for being awarded a BIG check for $15,000 from the Gene Haas Foundation!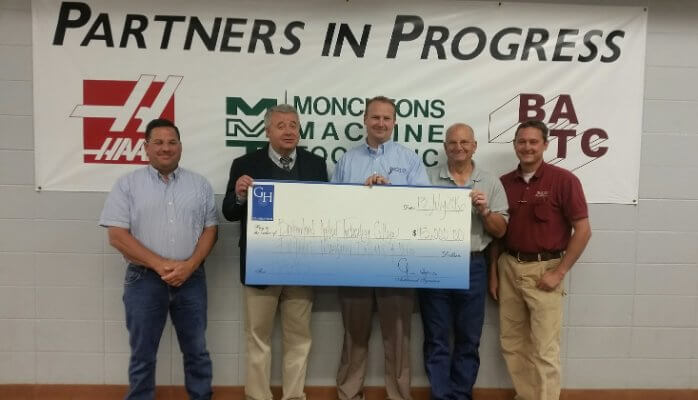 Dax Kempton, Machine Tool Sales from Haas Factory Outlet Salt Lake City Productivity presented the check to (pictured above left to right) John Davidson, Vice President of Instruction, K. Chad Campbell, Campus President, Dax Kempton, Jerold Knight, Department Head-Machine Tool Technology and Wes Chambers, Lead Instructor-Machine Tool Technology.
BATC has an excellent Machine Tool Technology Program with (5) Haas machines in their programs and (2) full-time instructors. They are finding more students enrolling each year in their Manufacturing Technology programs which include:  Machining Technology, Automated Manufacturing, Electronic Engineering Technology, and Welding Technology.
Wes and Jerold attended the National HTEC (Haas Technical Education Centers) Educator Conference at Central Community College in Auburn-Lewiston, Maine this past July.  Pictured below with Titan Gilroy, Titans of CNC (formerly Titan American Built).
"BATC is a very important resource to our community. Central Valley Machine relies heavily on the training and education BATC offers students, employees, and future employees of our company."
                – Bret Wurston, President Central Valley Machine, July 2014
The scholarships will be known as the Gene Haas Scholarships, named after the Gene Haas Foundation who has been offering scholarships to high schools, community colleges and special educational programs that help build skills within the machining industry.
For more information on Manufacturing programs at BATC, click on Bridgerland Applied Technical College.  Check them out at and LIKE BATC Facebook page!
The Gene Haas Foundation awards grants to High Schools and Post-Secondary Schools to assist with their programs, including scholarships for students pursuing Manufacturing Careers.  Schools can find out more about potential opportunities and apply for Scholarship Grants at www.ghaasfoundation.org.