CNC Parts Cleaning Systems

We Have the Perfect CNC Parts Cleaning Systems to do the Job Right!
Since all parts coming out of a machining center are coated with some form of cutting fluid residue and swarf, a simple, highly reliable and safe method of CNC parts cleaning is required. Which industrial parts washer you choose will depend on the level of cleanliness required, the quantity, type or size of the parts being produced, the complexity and geometry of the part, the type of debris, and maybe even floor space limitations among other things. Consideration should also be given to minimizing and handling of wash wastes, as well as safety and biodegradability of the cleaning solutions used in the washing process. 
Productivity Parts Cleaning Systems Suppliers
There are a variety of parts cleaning systems on the market. Productivity carries two environmentally-friendly lines: MiJET washing stations, and iFP parts cleaning systems.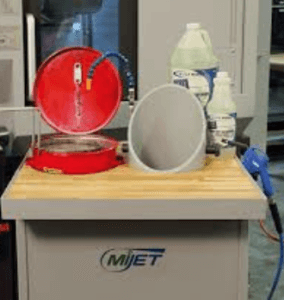 If a localized in-line or in-process parts cleaning system is required, MiJET air-powered units are a good option. These self-contained parts cleaning stations, positioned next to the machine, use air pressure to clear parts, and suction and capture the residue into a container for recycling. MiJET systems need only air and therefore do not require electricity. They are compact and mobile, and do not need cleaning solvents, making them eco-friendly.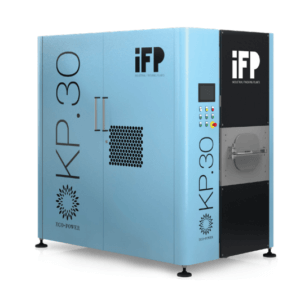 For customers looking to get away from using hazardous chemicals or have parts with more complex geometries are a great choice. These environmentally-friendly, self-contained, cost-effective parts cleaning and washing systems, wash and dry parts in a single chamber under vacuum from beginning to end, using modified alcohol solvents or hydrocarbon. They provide a small footprint, have pre-programmable features for increased productivity, are customizable with automation, conveyors, bar code readers, and more, and are the gold standard for environmentally compatible parts washing systems.
Choose Productivity For Your Industrial Parts Cleaning Machines
Productivity is proud to partner with reputable, quality, long-standing suppliers. You can count on us to offer the best in eco-friendly part cleaning systems for parts manufactured in oil or water-based cutting fluids. Not sure where to start, check out the iFP Vendor Page or you can contact your local sales rep.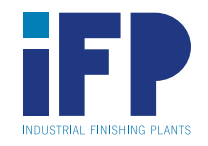 For information on MiJET, contact our tooling department.