Braham High School Receives BIG Check from Productivity and the Gene Haas Foundation!
Braham High School may be small in size, but the excitement the students show is BIG! Thanks to Agriculture/Manufacturing Technology Instructor, Luke Becker, the kids are learning how exciting Manufacturing can be!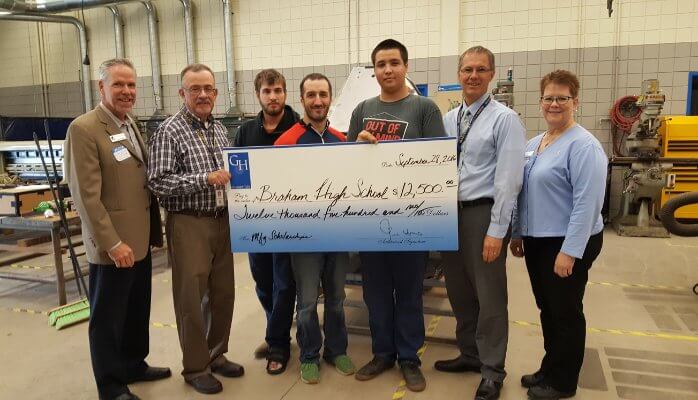 A BIG check from the Gene Haas Foundation in the amount of $12,500 for Scholarships was presented to Luke and the school by Productivity Inc, the Local Haas Factory Outlet. Pictured above left to right are Pete Nelson – Machine Tool Sales Manager (Productivity Inc), Mike Thompson – Vice Chair of Braham Area School Board, Dylan Goodson – Senior at BHS, Luke Becker – Instructor, Michael McAdams – Senior at BHS, Ken Gagner – Superintendent Braham Area Schools and Hope Riska – Operations & Training/HTEC Communications Director (Productivity Inc).
Dylan and Michael are both Seniors this year and both will be headed to college next year. Dylan is planning to participate in the Mechatronics Program at Alexandria Technical College in Alexandria, MN and Michael is planning to attend Dunwoody College of Technology in Minneapolis, MN for Precision Manufacturing.
The scholarships will be known as the Gene Haas Scholarships, named after the Gene Haas Foundation who has been offering scholarships to high schools, community colleges and special educational programs that help build skills within the machining industry.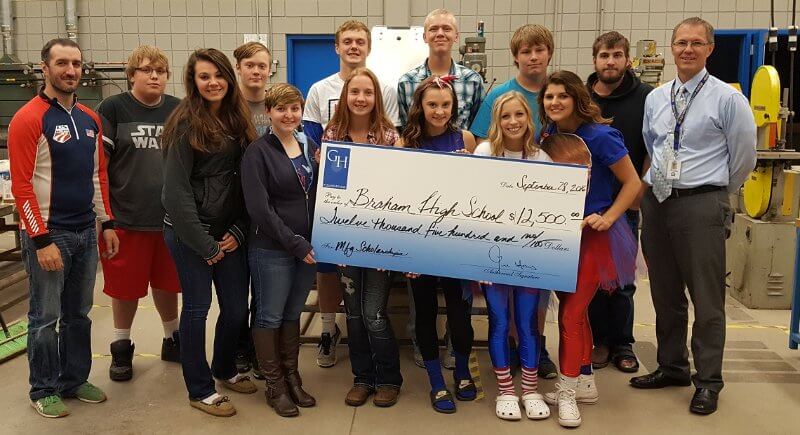 Pictured in the Photos section are some of Luke's students, grades 10-12. Back row: Luke Becker, Hunter Diedrich, Bryan Knowles, Joshua Zimpel, Matthew Yerke, Alex Berneking, Dylan Goodson and Ken Gagner – Superintendent BAS. Front row: Sophia Nelson, Brooke Wilsey, Chelsey Swanson, Katelyn McFarlane, Michaela Fielder and Kaitlyn Dordal.
The program at BHS is very involved with the Supermileage competition and are currently working on redesigning last year's car (see Photos section) for the next competition. In fact, Mr. Becker is kept very busy as President of the Minnesota Technology and Engineering Educators Association (MTEEA) Supermileage competitions.
Congratulations Luke and Braham High School!
The Gene Haas Foundation awards grants to High Schools and Post-Secondary Schools to assist with their programs, including scholarships for students pursuing Manufacturing Careers.  Schools can find out more about potential opportunities and apply for Scholarship Grants at www.ghaasfoundation.org.