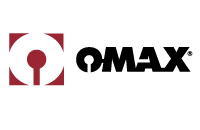 High Pressure Abrasive Waterjet Machining For Faster Cutting And Greater Precision.
Productivity is a select distributor of OMAX abrasive waterjet cutting machines. OMAX, established in 1993, is the global leader in producing versatile, precise, affordable, environmentally friendly, and easy to use abrasive water jet machines for the manufacturing industry.
OMAX waterjet high pressure cutting machine tools can cut virtually any materials whether thick or think, are easy to learn for fast setup and programming, require simple fixturing, need only a single tool for multi-mode machining and are environmentally friendly, having no hazardous waste byproducts. What was once a rough cutting tool is now a considered a precision machine tool, with capabilities ranging from macro- to micro-machining for many materials. OMAX waterjet cutting machines are capable of making high-precision complex 3D parts.
OMAX is continually updating its products and software, to ensure that their abrasive high pressure waterjet systems are always keeping up with manufacturing technologies and trends. This ensures that your equipment continues to be the best return on your business investment.
To see how an Omax can be an ideal addition to your machine shop, check our Omax waterjet blog.