Scott Isdahl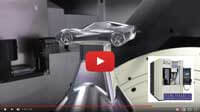 Strommen Engineering, specializing in micro machining of high tolerance medical molds, did a demo of a Corvette Stingray test cut on the Makino D200Z to demonstrate the machines capabilities, speeds, and programming softwares. Check out the video.
"So far, we are very happy with the Makino D200Z. It's fast and accurate. I also wanted to thank you for the great support."
Scott Isdahl, Toolmaker, Strommen Engineering.