Productivity Inc Proves To Be A Heavy Metal Contender At Its 19th Oktoberfest Tool Show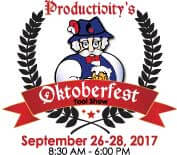 Plymouth, MN. September 2017 — Productivity's "Heavy Metal Showcase", the Oktoberfest Tool Show, held September 26-28, gave metalworking shop owners, CEOs, engineers, machinists and employees in the Midwest area a first hand look at the finest in metalworking machinery tooling and accessories, and related technologies and services. This year's show was marqueed by special guest speaker, Titan Gilroy of TITANS of CNC. Gilroy is a leading advocate for the future of CNC machining education. He spoke to standing-room only crowds, including over 1,100 students on Student Day, about his story of perseverance from homelessness, to time spent behind bars, to the hardships of building a CNC machine shop, with the underlying message to engage and inspire a new generation of machinists, inventors and builders.
Productivity's 19th machine tool exhibition is regarded as the largest distributor operated trade show event in the Midwest, if not the U.S. Over 40 CNC machine tools including Amada, Anca, BTM Bandsaws, Cincom Citizen and Miyano, Desktop Metal, Durma, Extrude Hone, FANUC, FOBA, Haas Automation, Hasegawa, Hwacheon, iFP Parts Washer, Makino, Matsuura, Microlution, Mighty Viper, Muratec, Okamoto, Omax, Scotchman, and Statasys were powered up on display. In addition, the show featured over 100 quality tooling & accessories suppliers, our Machinesused.com division, measurement solutions products, contract dimensional inspection services and software solutions, as well as robots, and integrated robotic systems.
Ushering a new era in automation was FANUC with the latest in collaborative robotics. This new technology paves the way for safe, fenceless working environments for humans when working alongside robots. Automation and robotics were a hot ticket at this show, and Productivity and FANUC showcased many different robotic cells. 3D printing and additive manufacturing were also buzz words as Stratasys, and our new line of 3D metal printing, Desktop Metal, demonstrated how shops can now image, design and replicate on the fly and enable them to go from prototype to production quickly.
Over 3,100 attendees witnessed this manufacturing spectacular and were wowed by the many live cutting demos taking place, including a ball in the box demo on a Haas CM-1 with TRT70, an ejector pin demo on Citizen L12 Type VII with fusion coolant, a guitar cribbage board demo on a Makino a61nx with pallet changer, and a housing cover mold being made on a Matsuura LV-500, to name a few. Attendees could also sharpen their metalworking knowledge with 12 informative seminars including the timely Additive Manufacturing/3D Printing and Automation is the Answer: Numbers Don't Lie seminars. Then there was the Haas F1 race car on display, a FANUC training robot cell, a FANUC robot high-speed bolt insertion cell, multi-tasking machining, water jet cutting, EDM machining and tool vending, just to name a few. There were plenty of experts on hand to answer questions and talk the latest in metalworking technologies. After a long day at the show, attendees were greeted in the food tent with pig wings, brats, beer and polka music. Greg Buck, President said that "Oktoberfest is an opportunity for us to meet, greet and engage with our customers and highlight our strong capabilities. It's also a time for us to show our customers and our supplies what they mean to us and how much we care about them. There is no other "private" show like this in the United States."
In addition to industry attendees being present, over 29 schools attended the show's Student Day event on Monday, September 25 — a unique day for students to come in and see metalworking at its best. With a shortfall of manufacturing workers, this day gave over 1,100 high school and vo-tech students the opportunity to discover the possibilities in manufacturing and see the abundance of jobs available in this industry. Productivity Inc leads the way, not only by providing innovative solutions for manufacturing, but also by looking into the future of the machine tool industry — introducing tomorrow's manufacturing professionals, to new technologies in the machining and tooling industries, is an important step in that journey.
Productivity is a strong, long-time contributor and advocate for the manufacturing sector, and Oktoberfest is always a great venue to witness the strength of manufacturing in our great state and area. Since 1968 Productivity Inc, based in Plymouth, Minnesota, has been distributing a broad range of CNC machine tools, tooling and accessories and related metalworking products. Productivity Inc can assist in the research, evaluation and planning of your machine tool purchase. As a single source machine tool supplier, Productivity Inc offers Machine Tools, Tooling and Accessories, Machine Service, Preventive Maintenance, Turnkey Systems, Robotics and Automation. Our MachinesUsed.com division will sell your surplus equipment via its online auctions. Productivity Inc provides metalworking products and services in Minnesota, North Dakota, South Dakota, Iowa, Nebraska, Wisconsin, Colorado, Idaho, Montana, New Mexico, Utah and Wyoming.