Productivity and Gene Haas Foundation Present $15,000 Grant Check to Des Moines Area Community College
Congratulations to Des Moines Area Community College (DMACC) in Ankeny, IA for being awarded a BIG check for $15,000 from the Gene Haas Foundation!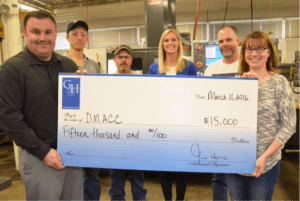 Brent Freeborn, Outside Sales Engineer from Productivity Inc/Haas Factory Outlet presented the check to (pictured below left to right) DMACC Tool and Die students Simeon Olsgaard of Indianola, Jeff Routson of Hartford, DMACC IHUM (Information Technology, Healthcare, Utilities, and Manufacturing) Project Coordinator Megan Patton, Tool and Die Professor Mark Rosenberry and DMACC Industry and Technology Associate Dean Jennifer Foster.
DMACC has an excellent Machine Tool Technology Program with (6) Haas machines. Instructors include Mark Rosenberry (pictured), Dale E. Collins, Dennis Knittel and Program Chair, John Neumayer.
The scholarships will be known as the Gene Haas Scholarships, named after the Gene Haas Foundation who has been offering scholarships to high schools, community colleges and special educational programs that help build skills within the machining industry.
For more information on programs at DMACC, click on Advanced Manufacturing Technology
The Gene Haas Foundation awards grants to High Schools and Post-Secondary Schools to assist with their programs, including scholarships for students pursuing Manufacturing Careers.  Schools can find out more about potential opportunities and apply for Scholarship Grants at www.ghaasfoundation.org.