Local Live Tool Repair In the Midwest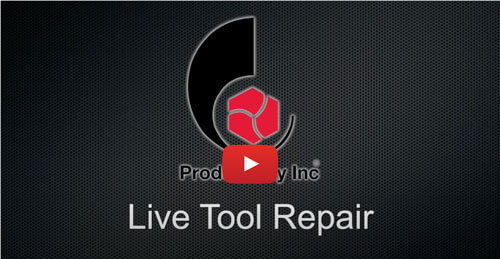 Live Driven Axial and Radial Live Tool Holder Repairs

Productivity is your number one source for live driven tool repair in the Midwest. We offer fast, local and economical axial live tool, radial live tool repairs, live toolholder repairs and rebuilds, typically within two business days. Service is performed by highly trained and experienced technicians in our state-of-the-art repair facility. We also offer free estimates on every tool, plus a 90-day warranty on all rebuilt parts. Whether you're located in Minnesota, Iowa, Nebraska, North Dakota, South Dakota or Wisconsin, all repairs and rebuilds are performed locally in Minneapolis, Minnesota to help reduce your downtime. And our innovative foam packaging system ensures safe delivery of your live tool.
Models we service include (but are not limited to) Jarvis live tools, Mazak live tools, Eppinger live tools, Citizen live tools, Benz live tools, Heimatec live tools, Koma live tools, Alberti live tools, Gen Swiss live tools, WTO live tools,  Lyndex-Nikken live tools and Star live tools. Productivity is also the authorized national repair facility for Citizen and Heimatec.
We also service live tooling for machine tool lines including Haas, Mori Seiki, Dakota, Mazak, Nakamura, VDI, Jarvis and more.
Why you should have your live lathe tooling, live tool holders and live tooling spindle heads and gear shaft repaired or rebuilt by Productivity:
Repaired in Midwest: We fix your live tool in our Minnesota location, so you can get your live tool back fast, typically within a week.
Part Assessment: We disassemble and inspect internal and external components of units.
Repair Estimate: We will provide you with a fair and honest quote, and should your part be beyond repair, we will let you know.
Local Stock: Parts ordered are taken from local stock, reducing the repair time.
Repair: Parts and unit cleaned, installed and tool reassembled and tool is rebuilt to factory specifications and guaranteed to perform like new.
Quality Control: Tools are tested and measured for accuracy.
Delivery: Tools are packaged in an 

innovative foam packaging system to ensure safe delivery of your live tool.

Warranty:

0 We offer a 90 day limited warranty
For more information or to schedule rotary tool repair, call 763-745-1161 or email at rotary@productivity.com.
Shipping Address:
Productivity Inc – Live Tool Repair
2340 Niagara Lane N., Suite 3
Plymouth, MN 55447