Here's A Little Something About Haas Automation Machine Tools

For over three decades, Haas Factory Outlet Productivity has distributed, serviced and supported the Haas Automation line of CNC machinery, a global leader in machine tool building. As a leading supplier of Haas' American-made CNC machine tools, the team at Productivity Inc. holds a shared commitment to metalworking industry advancements — the commitment to quality CNC machines, certified repair and customer service. Our experienced approach to customer-oriented distribution is the ideal fit for a company that continually pushes machining innovation.
What Makes Haas Unique?
High Accuracy. Repeatability. Affordability. Durability.
Haas Automation was founded in 1983 by industry trailblazer Gene Haas. During this time, metal fabrication was a labor-intensive and inefficient trade by today's standards. Still, the world needed machining efficiency, and Haas was prepared to make that process easier and affordable for metalworkers across the globe. Haas released the HA5C, the world's first fully automatic programmable collet indexer. The model remains a popular product to this day.
This machinery triggered a wave of innovative automotive solutions from the company, which has since grown to be the largest machine tool builder in the US. The company's HQ in Oxnard, California is home to the largest, most modern production facility in the country for machine tool manufacturing and is where Haas has produced well over 200,000 machine tools since 1988.
What Types of Products Does Haas Manufacture?
Haas' American-made CNC machine tools includes four major product lines: vertical machining centers (VMCs), horizontal machining centers (HMCs), CNC lathes, and rotary tables. Additionally, the company produces a number of large five-Axis and specialty machines.
VMCs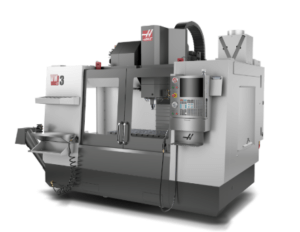 Haas CNC vertical machining centers are designed with performance in mind. The team at Haas understands what machinists need most to boost productivity, because they are machinists themselves. The company released its first VMC product, the VF-1 in 1988. This milling machine changed the way manufacturers worked with parts and paved the way for Haas' VF Series — the most popular CNC vertical mill in the world. Whether you need a standard 3-Axis mill, a powerful 5-Axis machining center, Haas CNC mills offer the features and performance you need at the best price.
HMCs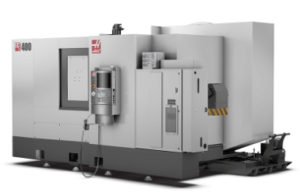 If you're considering a horizontal machining center, it's important to think about how the equipment will impact the future of your business. This is as much of a question about profitability as it is about production capacity. Thankfully, Haas makes full use of its industry-leading production capabilities to create the EC Series HMCs that fill a wide range of needs for metalworkers at a reasonable price. Whether you choose the compact, rigid 40-taper models built for high-volume production and unattended operation or the 50-taper models, well-suited for large-part machining, they are the preferred job shop machine tools to make more money in less time.
CNC Lathes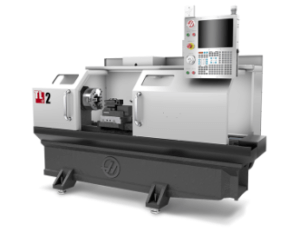 In order to get an edge over the competition, machine shops need lathes with a wide range of features and incredible precision. Haas has set the bar in these areas, as the company offers big-bore lathes, dual-spindle models and live tooling with C-axis and Y-axis capabilities. Whether you need a lathe with flexibility, extreme rigidity, multiple operations in a single setup, simple easy of use, intuitive controls, high-volume production for small parts or an ultra-compact footprint, Haas has a turning center for any shop — big or small.
Rotary Tables
Haas rotary tables provide 4th- and 5th-axis capabilities to all types of shops. The brand's rotary tables provide a high level of positioning accuracy on every project. Available in sizes ranging from small to extra large, Haas designs rotaries that fit right into your floor space.
Find the Haas Product You Need
By leveraging leading manufacturing methods and just-in-time production practices, Haas is able to produce exceptional equipment at an affordable cost. Budgeting for the next addition to your operation isn't easy, but with Haas products, you get a trusted American-made machine that has paved the way for other equipment providers in the industry.
Looking to take full advantage of the capabilities that come with every Haas product? Our sales team in collaboration with our expert applications engineers can help you select the best Haas product for your application. Productivity Inc.'s national resources ensure that you will find inexpensive and innovative equipment, no matter your needs. Learn more about our Haas Factory Outlet and how we can provide you with the products your business needs!