Haas EC-400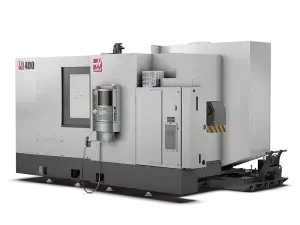 Designed for high-volume production and unattended operation, the all-new EC-400 is faster, more compact, more rigid, and more capable than ever before. It features a larger work envelope, faster rapids, a full 4th-axis rotary system for synchronous motion, and much better chip management. For extended production and true "lights out" capability, a 6-station pallet pool and high-capacity tool changer are available. NOTE: The Pallet Pool requires the optional 50+1 or 100+1 side-mount tool changer.    
Standard 30+1 tool side-mount tool changer,  with options for 50+1 or 100+1
Built-in pallet changer with 400 mm pallets
Full 4th-axis rotary system
Available 6-station pallet pool
Note: Pallets are not interchangeable with the previous generation EC-400.