Front Range Community College Receives $25,000 from Productivity and Gene Haas Foundation
Congratulations to Front Range Community College, Boulder County Campus in Longmont, Colorado for being awarded a BIG check for $25,000 from the Gene Haas Foundation!
Mark Smith, Vice President & General Manager and Chad Wadsworth, Machine Tool Sales from Haas Factory Outlet Denver Productivity Inc presented the check to (pictured below left to right) Ryan McCoy, Executive Director, FRCC Foundation, George Newman, Program Director, Precision Machining Technology, Larry Hartman, Faculty, Lynn Vosler, Director Workforce Solutions, Deb Craven, Department Chair, Chad Wadsworth, Productivity, Nicole Gervace, Employer Outreach Coordinator, Mark Smith, Productivity and Matt Jamison, Dean of Instruction.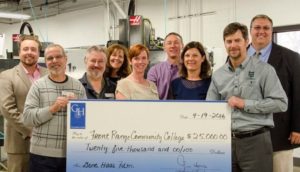 FRCC has an excellent Machine Tool Technology Program with (8) Haas machines in their programs and (2) full-time faculty along with (8) part-time instructors. They are currently working on their NIMS accreditation and have a few classes geared toward Women in Manufacturing.
The scholarships will be known as the Gene Haas Scholarships, named after the Gene Haas Foundation who has been offering scholarships to high schools, community colleges and special educational programs that help build skills within the machining industry.
For more information on programs at FRCC, click on FRCC Machining Technology.
The Gene Haas Foundation awards grants to High Schools and Post-Secondary Schools to assist with their programs, including scholarships for students pursuing Manufacturing Careers.  Schools can find out more about potential opportunities and apply for Scholarship Grants at www.ghaasfoundation.org.