FANUC Robots and Productivity Automation: A Great Choice for Your Robotics Integration Project
The Leading FANUC Robot Integrators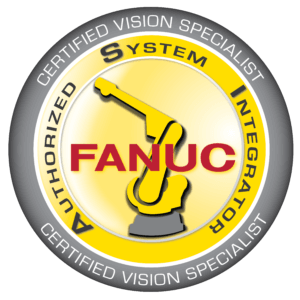 Productivity is proud to be a FANUC Authorized Robot Systems Integrator (ASI), and a partner of FANUC since 1977. This partnership allows our team to develop custom and pre-engineered automation solutions that fully utilize the capabilities of FANUC robots and resources. You can count on our vast knowledge and experience with FANUC robotic solutions when you need to integrate robots into your industrial manufacturing process. 
FANUC Robots – The Right Choice for Automation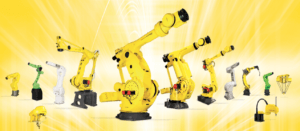 For over 40 years, FANUC Robotics America Inc. has been helping manufacturers to cost-effectively perform work in-house that once would have been sent off-shore. Whether you are part of the general machining industry or you need high-precision robotics for applications with tight tolerances, FANUC has dependable equipment to get the job done quickly and efficiently. FANUC designs, engineers, and manufactures more than 100 intelligent robots with more than 590,000 robots installed worldwide. Their applications are limitless and apply to many industries including aerospace, agriculture, alternative energy, automotive, die cast, electronics, fabricated metals, medical, pharmaceutical, and more.
Available in a wide range of payload capabilities (from 0.5 kg to 270 kg), reaches and axes configurations, FANUC robots are just as effective in a small shop as they are in a large manufacturing facility. FANUC offers a broad range of options and accessories to help further improve and add value to your manufacturing process including advanced software that allows numerous robots to work together in the same tight-space, high-speed servo doors, integrated iRVision® and tracking features, Dual Check Safety (DCS), Industrial IoT solutions like FIELD system Zero Down Time (ZDT), controllers and more.
Why Choose FANUC Robots for Automating Your Manufacturing Process?
FANUC has an extensive line of industrial robots including collaborative robots (or cobots) offering industry-leading features, high-performance and cost-effective options. FANUC also provides strong support in the area of process expertise and service. This strong partnership combined with support from Productivity's Robotics and Automation integrator solutions division will help manufacturers stay globally competitive. With robotic integration, you can expect increased production efficiency, reduced hourly operating costs, better machine operator efficiency, improved and consistent part quality, and easy and fast part changeovers.
FANUC Authorized System Integrator Advantages
It's important to make the most of every production hour, and Productivity will help you optimize your processes and increase your return on investment (ROI) on robotics equipment. As FANUC Authorized Robot Systems Integrator, we will analyze your complete manufacturing processes to determine the most advantageous robotic solutions for your business. Not only can it reduce your overall cost of doing business, when product demand changes or new parts are introduced, we can reprogram and repurpose a robot to change over quickly to meet the needs of almost any production environment. 
Commitment To Your Robotic Integration
Our highly trained and specialized automation team is here to help you determine the exact robotic equipment you need for your unique application. We will work closely alongside your team to design, test and verify programs that streamline your work. Being a FANUC Authorized Robot Integrator is about more than adding robots to do work at your facility. It is our careful and verified process analysis and implementation that ensures your company will take a strategic approach to robotic equipment integration.
Whether your automation goals are to increase part-production quality, improve part consistency, lower operating costs, improve worker safety, reduce factory lead times, generate a faster ROI, decrease cycle times, reduce cost-per-piece, increase production output, reduce workforce, reduce scrap, optimize floor space, maximize labor, increase system flexibility, or a little bit of everything, Productivity and FANUC can help companies find solutions. From small shops to large assembly operations, manufacturers rely on FANUC robots to help improve productivity, increase quality, maximize profits and maintain a competitive edge.
Let us help you keep your operations running smoothly as you make improvements with a full line of FANUC robots. When you choose FANUC along with Productivity's vast array of metalworking resources, you have a partner you can rely on for a successful automation transition. Your sales rep is ready to assist – contact us today!
Need more reasons to automate? Check out Benefits of Automation article.