Productivity Suppliers at IMTS 2018
Productivity Inc will have over 125 machine tool and tooling suppliers exhibiting at this year's IMTS in Chicago. Here's a chance to see the latest in machine tool technology with machines on display, cutting demos, conferences and seminars on current metalworking topics, fun and games, and experts to help you determine your best options. Productivity will have sales personnel at most booths. Contact your local sales rep for more information.
To help you navigate our machine tool and tooling suppliers, click the pin below to see a listing of all of our suppliers exhibiting at the show, their booth number and location.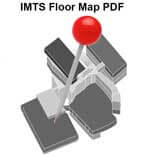 And, don't forget to visit your Productivity tooling & accessories suppliers.
Click here f
or list of our Tooling vendors at IMTS


or