Live tool repair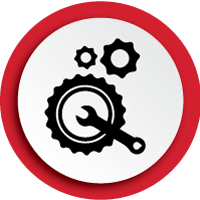 Productivity has Fast 48-Hour Turnaround on Most Live Tool Rebuilds and Repairs!
We perform live tool rebuilds on most driven tool brands.
We thoroughly clean, inspect, analyze, and repair to factory specifications.
Service is performed by courteous, knowledgeable, local Productivity Service Technicians.
Free estimates on every tool plus 90-day warranty on all rebuilt parts
Average turnaround is 48 hours; all rebuilds are performed LOCALLY, thus reducing your down time!
Download the brochure here.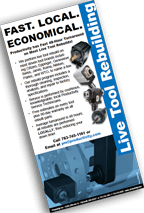 To request a Return Authorization (RA) number go to the Live Tool Repair page or click here to email us.
Rotary table repair

Productivity's Rotary Table Repair is Fast, Local and Certified.
Productivity offers quick turnaround and since all repairs and maintenance are performed locally, it reduces your down time.
We diagnose, rebuild and repair and all service is performed by knowledgeable, courteous, local Haas factory-certified service technicians.
Productivity offers rotary table preventive maintenance that includes motor checks, backlash adjustments, flushing and replacement of lubricant and replacement of O-rings and seals.
We also offer full service electronic repair of servo control units and cables.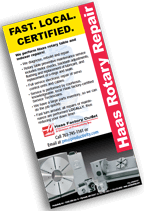 To request a Return Authorization (RA) number go to the Rotary Repair page or click here to email us.
PREVENTIVE MAINTENANCE

Productivity Inc. has a full-service Preventive Maintenance Department.
With Productivity's Preventive Maintenance Service, you can detect problems BEFORE costly damage and downtime occur.
We offer flexible service levels and costs to provide the coverage you need. We'll even tailor a service program that fits your exact needs and budget.
We can build your program based on your company's ISO requirements.
We can develop a program for a one-machine shop, large manufacturing facilities and everything in between.
We manage your service plan so that you don't have to. We provide dedicated service personnel, easy scheduling and annual service reminders.
Service is available on wide range of machine tools, even if they were not purchased from Productivity.
Service is performed by factory-certified, knowledgeable and courteous technicians.
Technicians arrive with the tools and parts needed to get the job done right the first time. And, they clean up once the job is complete.
Download the brochure here,
or go to our Preventive Maintenance page for more information.
upcoming events
IMTS 2016
September 12 - 17, 2016 | McCormick Place | Chicago, IL
Why Outsource Your Moving Project to productivity?

Whether your machine moving requirements are from one end of the shop to the other, or across town to a new facility, there are advantages to hiring an external machine moving company. But before you do, you will want to understand all elements in your move.

If you've determined that you need to outsource your machine moving job, Productivity offers several advantages that will ensure that your move is an efficient, cost effective and smooth process.


Reputation
You will want to deal with a company that deals specifically with moving CNC machine tools. You don't want a furniture mover, moving your 10-20,000 lb. machine. Productivity has been in the machine tool business since 1968 and moves machines on a daily basis. With our wealth of resources in the industry, we know what it takes to get the job done.

Versatility
Productivity provides machine moving services for small to large shops whether be internal shop moves or complete plant relocations. We can move you across town or across the state.
Flexibility
We can manage the entire move for you or a portion of it, depending on your budget. We can bid out your move by project or by the hour, whichever is in your best interest.
Knowledge and Capability
Productivity has a team of people including certified technicians and installers to complete the move.
Planning
We are aware of issues may arise and will plan ahead to do everything possible to minimize or avoid those issues. We set up a plan to handle your machines from the first move to the last move. Depending on the level of service required, this action plan may include a move assessment, inventory assessment, facility evaluation, timeline development, contractor management, electrical, rigging, de-installation, re-installation and project monitoring, depending on your needs and your budget.
Timely
If we manage the entire project, we provide a precise and detailed plan to ensure that the job is done on time and to your specifications. If we only do one aspect of the job, we ensure that we complete our portion on time.
Competitively Priced
We understand that expense are a key concern. We work with you to set up a plan to fits within your budget and you'll know upfront all costs involved. In the end, your machine will be set up to be up and running.

Once and done
Productivity has the expertise to do the job right the first time. Our goal is to get in, get it done and get you up and running right away. Should there be a glitch, the job is not done until your machines are up and running.
Insured
Are your technicians and contractors bonded and insured? All of Productivity Inc employees and contractors that we partner with are bonded and insured. Additional peace of mind that your equipment is in the hands of true professionals.

For more information on our Machine Moving services, click here. For more information, get the brochure here.

Testimonial

"Productivity has serviced and maintained our equipment for many years. They have a very knowledgeable staff and excellent service. We have also used Productivity's moving services for multiple shop moves. They helped coordinate and manage the move from start to finish. With Productivity we were able to minimize our machine down time during the difficult moves.​"

~Chris Tellers, R&D Manager
Sil-Pro




Machine moving success story: A tale of two companies moving to one facility

Challenge:

A local job shop had a new facility built, and Productivity not only had to move 60 plus machines from two separate companies into one facility, but had to time it precisely with the final construction close to minimize downtime. In addition, the machines had to be reinstalled and tested to meet the company's ISO requirements so that the plant was up and running all within a one week timeframe.

Results:

To begin the process, Productivity attended several of the building construction meetings to ensure power, air and foundation requirements were suitable for machine applications, to evaluate facility layout, and to keep abreast of construction timelines. We assisted with layout of machines to maximize the space prior to final move to ensure that machines were staged correctly. As building construction neared close, Productivity worked with electrical, rigging and some of job shop's preferred vendors to coordinate the move from each building at the same time. A large amount of Productivity's technical manpower was allocated to prep machines for move, install and certification of machines. In the end, the new plant was fully functional within a few days with minimal interruption and downtime thus saving the customer time, manpower and money.

For more information or to schedule a machine moving project, call 763-745-1161 or click here to email us.

Getting REady for your move

Before you meet with our Productivity CNC Machine Moving project manager, here are some things you can do to maximize your meeting:

Have a good idea of when you can start this move and when you would like it completed. Do you want this done during the next scheduled down time or does it have to happen during prime production time?
Have plant layout specification drawings so that Productivity can begin working on your project to determine where machines should go to maximize space.
Know what power availability is - some machines have different power requirements and so knowing what those are compared to what your shop has, will help stage the machines and/or determine if more electrical is required.
If you have preferred vendors that you would like Productivity to use for the move, let us know in advance so we can plan on using them if time allows.
Oh yes, and it doesn't hurt to have a nice hot cup of coffee ready.

For more information or to schedule a machine moving project, call 763-745-1161 or click here to email us.